SOCIAL MEDIA ADVERTISING SERVICES
In the current times of increased digital competition it has become essentially difficult to attract and retain a highly engaging audience. While there are many innovative techniques known to retain a loyal customer base. Yet, paid advertising remains unbeatable against all its other alternatives .
Smart and strategic social media advertising enhances your brand visibility and provides a fair ROI by offering high conversion rates .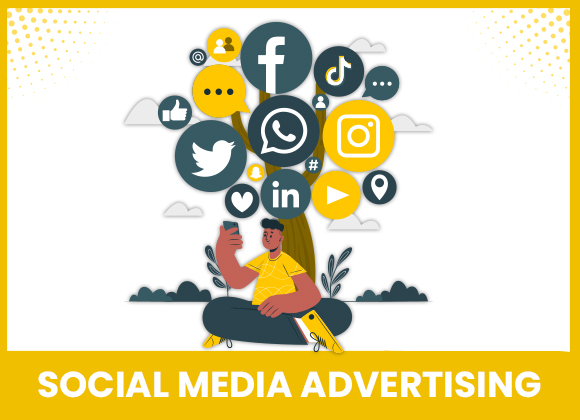 A Well known social media advertising company like Digilink Ads nurtures most valuable leads through its effective advertising campaign and engages more audience with your social media accounts boosting your sales .
WHAT IS SOCIAL MEDIA ADVERTISING
Social media advertising is basically strategic use of paid ads on different social media platforms like Facebook, Instagram, Linkedin, Twitter, etc. It is a smart and easy way of reaching to the most relevant audience and boosting conversion rates .
By using social media advertising you basically put your brand, product or service in front of the people who are exactly looking for it. This is a low cost reachability masterstroke that fetches high ROI .
People generally confuse social media marketing with social media advertising. Though the two are highly related but are definitely different. Only a dedicated social media advertising agency understands the uniqueness of these to individual concepts .
All advertising is marketing but not all marketing is advertising
Marketing is a wide concept whereas advertising is just a part of it. Advertising itself is a vague genre and social media advertising is one branch of it .
PLATFORMS FOR SOCIAL MEDIA MEDIA ADVERTISING
Being the best social media advertising agency in India we take it as our responsibility to offer a variety of services to our esteemed clients. We deal with online advertising on social media platforms. You can subscribe to one particular social media platform, customize your package or go ahead with all the platforms for targeted social media advertising .
Facebook advertising

Linkedin advertising

Twitter advertising

Instagram advertising

Pinterest advertising

Other
BENEFITS OF SOCIAL MEDIA ADVERTISING
Social media marketing alone can foster organic reach of a company online. But when infused with advertising it can bring back stupendous results in terms of conversion rates and ROI .
Ignoring social media advertising is similar to ignoring refueling your vehicle. There are a number of reasons that explains why social media advertising is the right thing for you .
QUALIFIED LEADS


A large part of social media advertising is based upon pay per click advertising. A person is more likely to click on your advertisement and visit to your landing page only when he has actual intent of buying from you .

CONVERSION RATE BOOST


As you know social media advertising generates qualified leads that are interested in your product or service. The fact that they clicked on your ad increases the probability of high purchases. Hence, fulfilling high conversion rates .
IMPORTANT INSIGHTS
Advertising comes with a lot of insights and analytics data to study and measure different metrics that explains the performance of your campaign. It given you a fair idea of what works and what needs to change leaving you a scope of taking data driven future decisions .

CONTROLLED MONEY EXPENDITURE


Social media advertisements provide fair control in the hands of social media advertising experts to wisely allocate and spend your money on the entire campaign. You have the ease of opting out of the campaign at any given point and re-allocating your funds as per your wish .
PROFESSIONAL SOCIAL MEDIA ADVERTISING SERVICE
Digilink Ads has been in the business of social media advertising for a long time and is well aware of the industry tactics. There is not one but multiple reasons why you should select Digilink Ads as your social media advertising partner .
Effective advertising strategy

Expert social media consultancy

Campaign tracking and reporting

SMO, SMM and SEM experts

Industry leaders

Low budget services

Ad management expertise