Assume you own a car dealership where you provide services for specific car brands or models, or you provide all services for both new and used automobiles. In that instance, you require a website that is both well-optimised for your company's needs
and for local listings. SEO can be used to accomplish all of these.
What is Car Dealers SEO?
Automotive SEO is the practice of improving your website's position on search engine result pages (SERPs). You can anticipate more site traffic, higher online conversion rates, and better sales as a result of the optimization.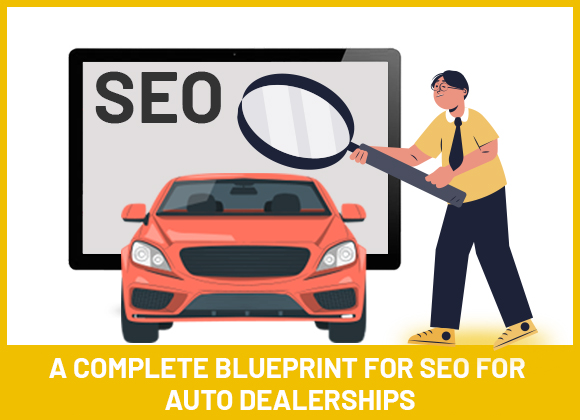 How is digital marketing for auto dealers different from traditional sales?
For vehicle dealers, interaction is the key distinction between conventional marketing and Internet marketing.
In a conventional marketing effort, you may run advertisements on television, radio, and in the newspaper before inviting potential automobile buyers in for a one-on-one discussion. Now, that discussion must take place before anyone enters the room.
Through a variety of channels, including email, blogs, interactive forums, social media, and more, internet marketing makes this possible. One-way messaging used to be able to attract customers to your dealership. Now, if you don't aggressively engage customers prior to their visit, they'll choose another dealership instead of yours.
What is automotive SEO?
Automobile SEO, also known as automotive search engine optimization, is a digital marketing tactic that utilises both on-page and off-page improvements to raise the ranking of your website in search engine results pages (SERPs). These improvements can boost website traffic, online sales, and conversion rates.
4 compelling reasons to use car dealer SEO
People lack the time to search through several websites in search of what they need. They'll focus on two or three and disregard the others. In actuality, the top three results receive 75% of all hits from search engines.
That is one of the reasons SEO for car dealers is so important. But why else should you spend money on SEO for auto dealers? Several factors, among them these four:
Competitive edge

Targeted audience

More authority

Increased awareness of your dealership
6 suggestions for your automotive SEO plan
If you've never done it before, automotive SEO may seem like a big, difficult process. Although it initially seems difficult, it gradually becomes simpler, especially if you collaborate with a team that can guide you through the procedure.
Here are six suggestions for maximising the effectiveness of your auto dealership's SEO strategy:
Select right keywords
When seeking for a product or service on the Internet, people frequently start by entering pertinent search phrases into their preferred search engine. Your website will only appear if the content also contains those search terms.

Prior to writing content based on those keywords, you must first conduct some keyword research to determine the search terms your consumers are using.

Consider the service, vehicle models, and geographic areas that your dealership serves. Try to naturally incorporate each of those terms and phrases into your content, such as in a few paragraphs on your site's home page, or by developing special pages or even blog entries that concentrate on particular subjects.

However, you should avoid keyword stuffing, which is when you use a keyword excessively and unnaturally. You may be penalised by Google for this



Great Content


Search engines and people both value new, high-quality material. And after reading helpful content you posted online, folks will be more inclined to want to learn more about your dealership.

You can start by starting a blog and providing informative articles about your field and advice for buying an automobile. A wonderful approach to engage with potential consumers and address any inquiries they may have about your dealership or inventory is through blogging. You may also add articles about the vehicles you sell and the services you offer to your website to make it more robust.

In order for visitors to your website to locate the information they require to go forward, be sure to include important details such as your contact information, operating hours, and locations.



Optimise all the elements


Naturally, you'll incorporate keywords and phrases into your website material, but SEO for car dealers goes farther than that. Too much repetition of one term might result in poor text that repels readers.

Avoid stuffing your material with keywords; instead, use them sparingly. This may comprise URLs, title tags, alternate text for images, and the meta descriptions linked to each page. Both of these can assist you raise your rankings and raise the chance that someone will click through to your page.

Remember to incorporate any blog entries or articles you produce into this plan as well! Your website will rank higher the more frequently your dealership is connected to the keywords you've selected. Just keep in mind to make it natural, as search engines can detect it and lower your rankings as a result.

For the best outcomes, you should aim to optimise as many pages of your website as you can.



Keep track of and observe SEO outcomes


You presume that the keywords you've chosen are effective, but are they? Have they improved their search engine rankings and website traffic? What's more, are they bringing in the right kind of traffic?

Plan how you will track and keep an eye on your car dealership's SEO activities. Knowing how well you're currently performing will help you make a plan to increase your efforts. Knowing your areas of weakness also allows you to concentrate your efforts there, strengthening your SEO approach overall.



Continuity in automotive SEO


SEO is a continuous process. It takes time and commitment to accomplish it right, but improving search engine rankings is a continuous process that you should be engaged in.

Don't stop using automotive SEO after you've started. It must be a consistent component of your marketing strategy, whether you work on site optimization every day or just occasionally. Otherwise, SEO won't assist you achieve your marketing objectives or raise your internet presence.



Use Google my business


A potent localised SEO tactic for car dealers is Google My Business.

When a customer searches for a local business, such as a close-by car dealership, the results will show up for your dealership if you have Google My Business. Create a Google My Business account today—free and simple.

In addition to setting up a Google My Business account, you should keep up your profile. Responding to consumer feedback and inquiries is part of maintaining your profile, as is altering your hours to reflect events, holidays, and unforeseen closures. Including the most recent images and event updates will also help your company get the most out of this automobile SEO tool.