FACEBOOK MARKETING AGENCY IN DELHI NCR
Facebook takes a lion's share of users in the social media spectrum which makes it the most popular choice of platform for social media marketing. The use of social media is growing rapidly amongst the people and businesses are taking witful leverage of it by planning social media campaigns for attracting clients.
As a Facebook ad management company we are fully aware of all the tiny bits and pieces that go into facebook marketing and hence we are capable of creating successful facebook ad campaigns.
BEST FACEBOOK MARKETING COMPANY – Digilink Ads.
Our experience and successful ad campaigns on facebook has brought us in the list of best facebook marketing agency in India. In a short span of time we have covered the journey from being mere beginners to successful and professional facebook marketers.
Digilink ads as a Facebook advertising agency, helps you in fulfilling your business goals through the use of social media platforms by creating right marketing strategies for your business. We pay detailed attention to your business requirements and prepare dedicated plans for increasing traffic, creating brand awareness, generating leads or increase in sales.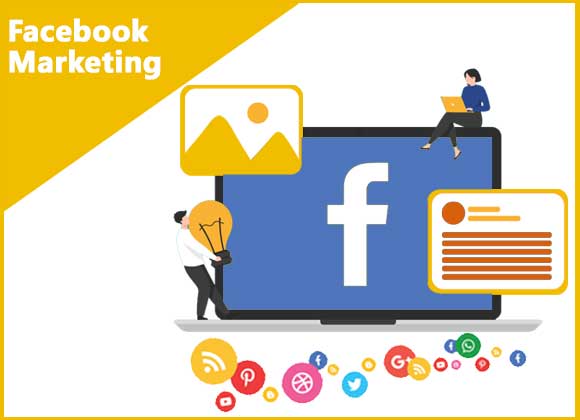 If you are looking for a Facebook marketing service then you have reached the right place. Here we not just create facebook advertisements for your business but we create value for every penny spent by you on marketing your business.
When you choose digilink Ads to provide Facebook ad marketing services for your business this is what you get.
Well- learned FACEBOOK MARKETING PROFESSIONALS
We are not a bunch of amateur social media fanatics who are extending facebook marketing services as an experiment. We have a brilliant social media team that is extremely professional and totally aware of their work. Our team mates are well versed with all essential facebook marketing tools and have vast knowledge of social media marketing jargon ( reach, engagement, creative copy, content copy, conversion rate etc.) Our team members know the difference between a facebook profile, facebook page, and facebook group and know how and when to make best use of it.
Data analysis
Only facebook marketing professionals like us, can do accurate study of the campaign insights. These are basically statistical data of how your post, content or campaign has performed so far. Any unskilful beginner, facebook marketer may not be able to comprehend beyond the number of likes, comments and shares on the posts whereas a competent analyst would read the data perceptively.
Content management
We create valuable content that makes sense to your brand. We have a team of dedicated content writers, graphic designers, video editors, content creators, and Facebook ad managers who run successful campaigns with collective efforts. We know when and where to show your ad. We specialize the ads towards targeted audiences for maximum success rate.
Our packages are tailor made as per the requirement of the client. We make custom packages for startups, small businesses, and large businesses located in Delhi. If you are looking for Facebook marketing for small business we have special packages for you.
We are open to work with every type of business whether big or small. We have prior experience of dealing in Govt. projects, MNCs, network markers and startups.
No, we are based in Delhi NCR but we operate with clients all over India. We are even a leading Facebook marketing company in Noida and Gurugram. We have a list of clients that are based in different parts of India.