(SEO optimized and mobile friendly)
An inventive and precisely designed website garners relatively higher traffic and enhances user engagement. Ultimately, skyrocketing sales and revenue. A well crafted ecommerce platform with precise search engine optimization not only attracts more traffic but also receive high google rankings
Looking for an ecommerce web development company? Contact us now!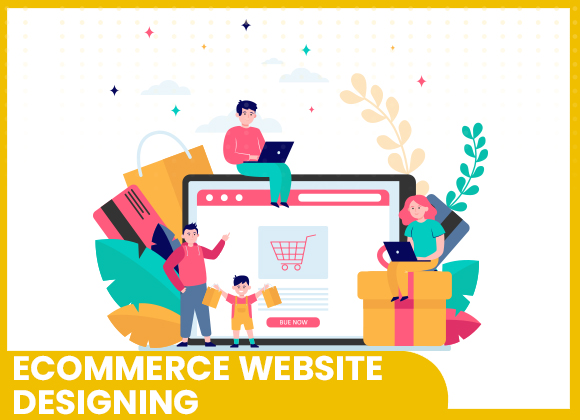 ECOMMERCE WEB DESIGN TO INCREASE SALES
E Commerce is a highly competitive industry picking up with the trend at an increasingly high pace. Making it essential for the business to prove them as the best amongst the rest.
And for that to happen a spectacular ecommerce website is an absolute essential
We specialise in ecommerce website development and provide you with a website that drives sales and helps in achieving new business milestones
TRADITIONAL WEBSITE V/S E COMMERCE WEBSITE
A traditional simple website is different from an ecommerce website in many ways. Generally a website is to establish brand awareness or to impart information. But an ecommerce website on the other hand constitutes
Product database

Order processing

Customer information

Shopping cart

Payment gateway
An ecommerce website is designed especially to generate smooth transactions that boost the sales of the business
SEO FRIENDLY WEBSITE DESIGN FOR YOUR E COMMERCE BUSINESS
An ecommerce store once active on the internet faces huge competition and finds it difficult to stay in the game. This is where our search friendly ecommerce design comes into action. As a web development company we not only limit our services at creating user friendly, flawless websites but also ensure to feature it with search friendliness.
"An SEO friendly ecommerce website is a well optimized website that contains everything in it to help it rank on search engines"
 YOUR CUSTOMISED COMMERCE WEBSITE
Having mastered the art of designing and developing ecommerce websites over the years, we understand how every brand is unique and deserves a personalised website design complimenting to their ideas and industry standards
Trust us with your ecommerce website and surely increase ROI with a fresh, innovative eCommerce design. We use advanced and updated technology for ecommerce website development.
BEST TECHNOLOGY FOR E COMMERCE WEBSITE
For a business aiming to enter in the online space, the first decision they need to make is of a website and how its going to be developed. By technology, we mean here is selecting the right programming language
Factors for deciding a suitable programming language for your website
Security

Flexibility

Reliability

Scalability

Database
MYSQL is an open source database management system that is being used widely these days to store and retrieve data. Massive web applications like WordPress also has MYSQL installed for the same purpose
Primarily there are six programming languages that give great competition to each other as far as ecommerce is concerned. Let's take a look at them one by one
JAVA


Java is by far one of the most popular programming languages for ecommerce. It provides flexibility and sturdiness for modifying your designs. It is a classes and object oriented programming that is suitable for developing full-fledged applications

JAVASCRIPT


Javascript is another well known programming language considered suitable for ecommerce websites because it can easily be embedded in the code of HTML. Other than that it also provides good front-end and back-end support

PHP


PHP or Hypertext Preprocessor is widely used and one of the best choices for developing ecommerce websites. It has a high scope of developing different applications. There are many frameworks that can be used along with PHP for developing a website. Laravel framework is considered to be the most suitable one.

PYTHON


I am sure you must have heard the praises of python at least once in your life. It is again a highly demanded and trusted programming language. It is mostly used for creating web applications. It is widely used for creating ecommerce websites and highly functional web applications.
You might be thrilled to know that popular social media platform Facebook is also developed by using python. When combined with a framework called Django, the outcome is highly functional.

RUBY


If you have a website with heavy traffic, you can consider ruby for programming your website. Though its performance is not as amazing as its counterparts but is still popular due to its functionality and feature of customization of your online store

MEAN


Mean is actually a group of framework technologies (Mongo DB, Express.JS, Angular JS and Node.JS). Popularly known as MEAN Stack. This stack is used widely for creating dynamic web applications.
Angular JS and Node.JS are the latest technologies used in the concerned field. Angular is extremely popular for creating dynamic web applications whereas Node.JS is lightweight and data driven platform to develop applications.


PARTNER WITH US FOR YOUR E COMMERCE SOLUTION
Digilink Ads provides a comprehensive solution for all your ecommerce requirements. By hiring us you find all types of ecommerce store designs at your disposal. We cater to online stores of all sizes and provide an optimized, responsive, easy going website
WHOLESOME SHOPPING EXPERIENCE


Online shopping experience becomes a whole when the shopping experience is hassle free and smooth even at the seller's end. To give the brand or sellers that ease of trading we include tools/ features such as


Seller onboarding




Inventory tracking




Catalog management




Secure transaction




Discount management




CRM integration

LOW MAINTENANCE DESIGN


We don't believe in temporary arrangements but go for long run solutions. We emphasize on creating websites that go a long way. The intent of any business is to go on forever, and that is exactly what we try to achieve with our websites. We give you websites that stay functional and relevant even in long run without burning a hole in your pocket

DIGITAL MARKETING AND SEO


We have emphasised and mentioned time and again that we provide comprehensive solutions to our customers. As your ecommerce developers we definitely provide you with a well designed website but also cater to all your digital marketing needs to make your website popular

RESPONSIVE DESIGN


What we are experiencing right now is an 'on the go' situation. People are always in a hurry moving from one place to another swiping on their phones all the time. Therefore, we provide you a complete solution in the form of a responsive website that works as flawlessly on the phone as on the web

TECHNOLOGICALLY ADVANCED


Being a web designing and development agency, we operate with thorough professionals who have upgraded themselves with the changing times and latest technologies. Our experienced developers are well versed in different and newer programming languages and are capable of serving the best to you
DIGILINK ADS INDUCED PROFESSIONALISM
As a full fledged website designing agency that leads the chart of ecommerce web designing, we take it as our responsibility to provide standard services to our valuable clients
Experienced Team

Dedicated Project Manager

Complete assistance

Personalised touch

Smooth functioning

Technologically driven

Deadline compatibility
Partner with us and experience the difference yourself