MULTILINGUAL SEO SERVICES
It is estimated that about 70% of the global population does not have English as their first language. Therefore, anyone who is looking forward to capture a larger audience at a global level needs to incorporate multilingual SEO in their digital marketing efforts .
It is believed that currently there are only 1% of English websites that are translated into spanish. This statistics comes after the fact that Spanish is the third most spoken language in the world. If you are expanding your operations globally or you have a website that caters to people from all over the world. Multilingual SEO is the right thing to do .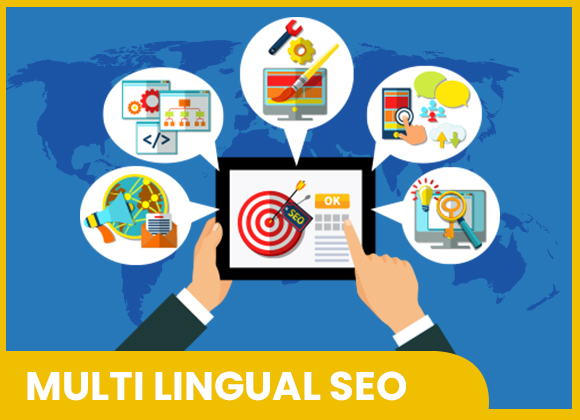 WHAT IS MULTILINGUAL SEO?
Multilingual SEO is much more than simply translating your website into a different language. Search engine optimization at its core deals with ranking your website on search engine result page .
There are many countries where google is not the first preferred search engine and they promote and extensively use their indegenious search engine. As a leading SEO agency we help you deal with any search engine and rank your website on it .
As a global player the wisest decision you can make is opting for multilingual seo services and hiring the best seo company like Digilink Ads to do your job .
increase your global customer acquisition base with our multilingual seo services
As mentioned above, multilingual seo is a complex process and includes much more than mere translation. As an efficient multilingual seo service provider we take care to do meaningful multi-language seo for you with right strategy and execution
Distinctive strategy for individual language


Every language is unique in its own way and has special features in terms of its functionality. As multilingual seo experts we take up every language as a single project and deal with it one by one. We ensure to develop individual content strategies for every language .
Every language has its own charm and characteristics and we ensure to provide you the same with a brilliant seo activity .

Multilingual campaign


We have a team of qualified and experienced international seo professionals who have the expertise of taking your brand to the next level. We offer to promote your single product or services in different languages different search engines for increase in sales .

Keywords in multiple languages


Keywords are complementary to search engine optimization. The foundation of an efficient seo project is laid upon a brilliant keyword strategy. As your

multilingual seo partners

we extensively study and research right keywords for you that can skyrocket your website reach and rankings garnering more traffic and sales to your business .
Web optimization for local language
Local SEO plays an extensive role in promoting the business in your nearby areas driving more traffic to your website and enhanced footfall at your physically located store. Our SEO experts will analyse your current website and structure and work upon it accordingly towards a more targeted audience .

Search intent analysis


The meaning of sentences may differ in different languages changing the sense and intent of the customer. We analyse the intentions of the user and optimize your website content in a way that it exactly matches with your users intent for smooth customer interaction and experience .
WHY DIGILINK ADS?
There are numerous reasons for why Digilink Ads is a leader in the race of search engine optimization. Hire us for our unmatched expertise and professionalism .
Multilingual SEO for self site

Experienced SEO experts

Diverse client base

Globally operating agency

Budget friendly

Industry leader

Smooth operations

Deadline attentive