A hospital, even with the best team of doctors and medical facilities, sometimes falls into troublesome situations where its reliability and reputation is at stake. With the growing number of hospitals and increasing trend of online reviews, online reputation management becomes a mandate.
It acts like a defence system for the hospitals against any kind of defamation and helps it grow in the evolving healthcare marketplace. Gone are the days when hospitals were mere centres of medical treatment, now they have a larger market ecosystem where they are also a profit generating unit .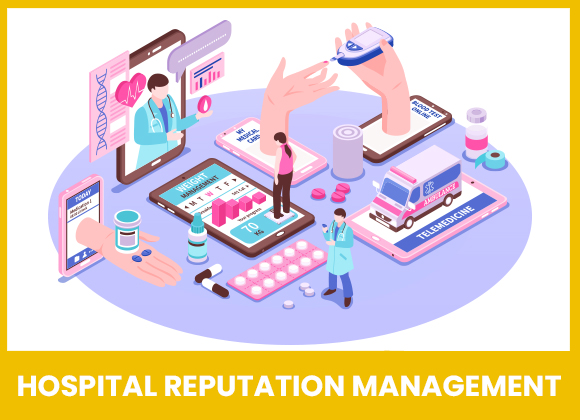 These days patients do not visit any medical facility just like that. They research well about hospitals and the physicians there before making an appointment. Patients and their families take help of the internet and reviews available on it to analyse and make their final decision .
Nowadays, consumers not only want treatment and medication from the hospital but also comfort, convenience and best care. It is observed that about 80% of customers go on to check internet reviews even for a doctor or hospital suggested to them by a confidant. Online reviews have become a greater tool of reliability than word of mouth .
With evolving technology patients and their families have all the details just a single click away. Today, people not only want services but an experience even during a medical emergency .
To have a total value for their money customers look for various factors in the online reviews and comments like :
Cost

Distance

Waiting time

Staff behaviour

Doctor's behaviour

Facilities

Care and comfort

Expertise area

Easy appointment booking

Accuracy with diagnostics

Average time spent on a patient

Years of experience
There is no fixed formula for maintaining a hospital's reputation. But in the digitally driven times there are certainly some guidelines or say channels that can help you in having a leverage over your competitors and maintain a healthy reputation of the hospital online .
SEARCH ENGINE OPTIMIZATION
When dealing with online reputation, know that you have to make google your best friend. Whenever a user types for a similar medical service, your name should appear on Google left, right and centre .
Search engine optimization or SEO is a branch of digital marketing that can prove to be highly beneficial in the entire online reputation management process for your hospital. A good seo helps your website rank higher so that it gets more attention and ultimately more traffic increasing the chances of a higher customer base .
SEO isn't a straight path but a crossroad of various factors. While deciding which content to rank higher Google's algorithm consider the following factors .
Quantity of reviews

Quality of reviews

Recency of reviews

Engagement with reviews

Locality of hospital ( For local SEO recommendation)

Ratings to the hospital

Ratings to the doctors

Traffic on hospital website
These factors not only keep up with Google's algorithm but also impresses the customers in general. Patients trust a hospital and its doctors with their life. Therefore, it is natural for them to go for a doctor with high ratings, strong online presence, positive reviews and proximity and cost in some cases .
REVIEW SITES FOR HEALTHCARE SYSTEM
After searching for a medical facility on google's search bar users are taken to a page with links to multiple sites. There are high chances that customers will visit your website and check out for medical online directories and review sites to form a comprehensive decision .
It is essential to build and maintain your hospital website but it is equally important to maintain a robust attitude and goodwill on different platforms over the internet. If possible a hospital should definitely hire for professional hospital reputation management services on digital platforms so that they can tactfully implement search engine optimization, check, respond and moderate reviews about you and also list you in different health directories and maintain your portfolio on them .
Given below is a list of various online directories, sites and portals that are concerned with medical profession and can be highly useful .
Healthgrades

Vitals

Sharecare

Healthline

Wellness.com

Caredash
SOCIAL MEDIA PLATFORMS
There is hardly anyone these days who can deny the potential of social media platforms for reputation management. While accurate social media strategy can soar your business high by increasing your goodwill, the same social media can also burn your reputation down in just one wrong move .
Hospitals and physicians can make use of social media platforms to connect with people and have a personal relationship with them. Facebook, instagram, youtube and other short video platforms can be used to spread the word and spread the awareness amongst the audience .
These days podcasts have become really popular and can create an instant connect with the audience .