Best web development company in Delhi
Every lane of the national capital of India narrates a story of its own. Be it big complexes or narrow shopping lanes, all of them recounts the tale of endless businesses flourishing at their premises. Delhi, being the capital of India attracts business from all around the country, making it the focal point of both traditional and modern businesses. In delhi you find the right blend of heritage and revolution. To keep up with the present and upcoming times, the people of Delhi are increasingly going digital. They are aligning their business with the internet, making it essential for them to find the best web development services.
As a top web development company in Delhi, we can testify to the growing demand of business websites these days. Our experience with the clients in Delhi NCR has taught us that the business circle of Delhi is open to change and experimentation. And we take pride in providing the best website development services in delhi to support the zeal of delhiites.
Digilink Ads as your choicest web development service provider in Delhi
We are a digital agency based in Delhi with clients from Delhi NCR and rest of the country. Our team is inclusive of dedicated web developers who are well learned and experienced. And we take pride in the sincerity and quality of their work. Digilink ads not only provide value for time but also value for money. Be it any kind of business, if you are looking for any web development or web design services in Delhi, don't fret, your find is over at Digilnk Ads.
Why are Digilink ads your one stop solution?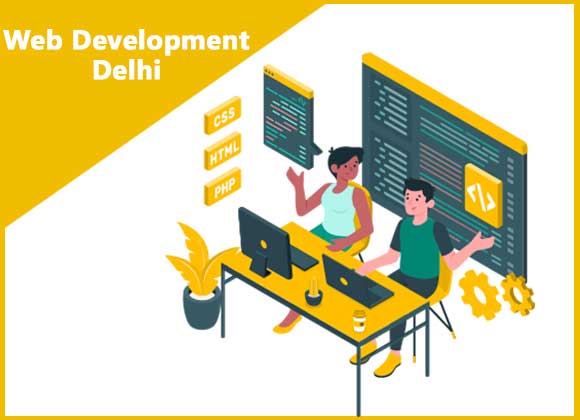 Customised Website
As a web service provider in Delhi, we realise how a business has its own vision and motto. And how the requirements of a website are unique to every business. We understand all the needs of our clients and develop a website for them which is specifically designed to their industry and area of operations. We make sure to take care of every intricate detail while developing the website. Right from the layout,colour,page structure everything is well planned and thought off. You get a website exclusive to you that speaks volumes of your business.
Planned execution of the project
We work as per a standard operating procedure where we systemize the work at the planning stage itself. There is no chaos regarding who and how at our work station. The work is orderly distributed and executed by our team. There is complete clarity and transparency of work amongst our team members and a fair connection is maintained with the client which helps us to deliver timely and wisely.
Internal audit
When a client pays for any service he deserves only the best results. To achieve this we have established a system of internal auditing where our experts regularly keep testing the working of the website and fix any issues that arise immediately between the ongoing process of development itself. So that when the client receives his delivery, the website turns out flawless in terms of functionality, aesthetics, and usability.
Yes our office is based in Delhi and we surely provide web development services in Delhi .
We are open to work with every type of business whether big or small. We have prior experience of dealing in Govt. projects, MNCs, and startups .
Our packages are tailor made as per the requirement of the client. We make custom packages for startups, small businesses, and large businesses located in Delhi .