With every passing day our lives are being concentrated more and more within the mobile phones in our hands. From work to entertainment we need our phones literally at all times. Pertaining to which mobile phone has secured an unmissable position in the field of online advertising.
Gone are the days when web ads were enough to fulfill your business goals, nowadays mobile advertising is considered the final nail in the coffin. To add the additional flavours in your marketing campaign by including mobile app advertising you need a brilliant mobile app advertising agency like ours, to take you closer to your business goals.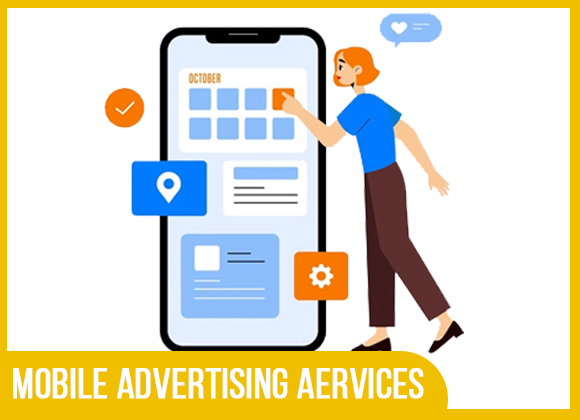 Mobile advertising services by Digilink Ads
In App advertising
With increase in mobile phone penetration and data connectivity, In app advertising has become the most popular way of meeting your target audience with the use of advanced data tracking. At digilink Ads, our graphic designers ensure to create catchy display ads for you and our advertisement experts make sure that they reach the right audience.
Short message service
Sms marketing has been a popular means of mobile advertising for as long as one can recall. With the popularity of whatsapp sms marketing now has incorporated whatsapp marketing as well. We ensure to do targeted mobile marketing based on location, gender, age, etc.
Mobile video and WAP banners
We create video ads and attractive WAP banners that complement your brand and fetch potential customers for you. Reach out to us for attractive animated videos and superb ad editing.
Ad campaign management
As a mobile advertising company in India we are fully competent in managing your ad campaign from start to finish. We are not a bunch of beginners but an exclusive blend of fresh blood and old wine. In other words we include young passionate talent and thoroughly experienced professionals.
Why choose digilink Ads for your mobile advertising
We are a core digital marketing agency with a forte in all its branches. Online Marketing runs in veins of digilink ads making us deserving of running all sorts of online ad campaigns. The Internet isn't a new domain for us. We have been working over the internet on various advertisement projects for a long time now.
We have seen the mobile advertising industry over the years and witnessed the changes first hand. As a seasoned mobile app advertising agency we are capable of delivering results better than beginners competing with us
If you choose us as a mobile advertising partner this is what you are sure to get
A dedicated project manager who will be responsible for completion of your task within the desired period of time. He will supervise your project and serve as a point of contact for you so that you know about your project at all times
A brilliant mobile campaign that would shout professionalism and expertise at the top of its voice. We will responsibly take care of all the technical and non technical aspects
Even a successful mobile advertising campaign goes down the drain if you don't have the right means to study your progress or campaign performance in general.
We take special care to be dynamic and creative in all our endeavours. From ideation to execution, we are well planned and well prepared at every stage

Our excellent after support to the customers is our USP. We believe in maintaining long term relationships with our clients and satisfy their needs fully.