CONTENTS
Fundamentals of link building

How to find high quality links

How to get high grade links through content marketing

The Skinny On Black Hat Link Building

Advanced Link Building Tips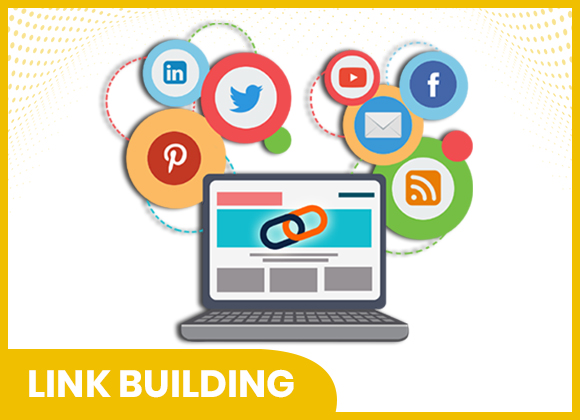 Fundamentals of link building
Link building is essential for SEO and good rankings. Scroll down to find the most definitive guide to link building
What is link building?
Building one-way hyperlinks (sometimes known as "backlinks") to a website with the objective of enhancing search engine exposure is known as link building. Content marketing, the creation of useful products, email outreach, broken link building, and public relations are all common link-building tactics.
Why Are Links So Important?
To comprehend this, you must return to the pre-Google era of the internet. Search engines like Yahoo! and Alta Vista were the leading players back then. They also based their search results entirely on the content of a webpage.
Then there's Google.
The game was revolutionised by their now-famous PageRank Algorithm. Rather than just looking at the content of a page, Google looked at how many people connected to it.
They were correct. Links are still the best way to judge the quality of a webpage nearly 20 years later. Backlinks are still Google's primary ranking indication for this reason. However, Google currently prioritises link quality as a result of changes like Google Penguin (not just link quantity).
You must be wondering by now, how to actually build such high quality links. So, continue reading for that
How to find high quality links
Authority of the Page


Is the page that links to you a PageRank monster? If that's the case, the connection will have a significant impact on your rankings. In fact, I've discovered that the authority of the page connecting to you matters more than any other aspect, based on years of testing. Because authoritative pages link to your site, it gains greater authority (also known as PageRank).

(Note: Although Google does not publish PageRank data, it is still used as the basis for their algorithm.) Semrush makes it simple to examine a proxy indicator of PageRank ("PageRating"). Simply enter a URL into Semrush to see its "Page Authority Score."

Authority of the Site


The sitewide authority of a domain also influences the quality of a link. A link from a well-known website, such as TimesofIndia.com, will have a much greater influence than a link from an unknown blogger.

These links are difficult to obtain, but they are well worth the effort. Semrush comes in handy once more. Enter the root URL of a website into the tool to see its "Authority Score."

Relevancy of the Site


The authority of a website is important when it comes to links. However, the site's relevance is also important. Let's imagine you run a website dedicated to the Paleo Diet.

You also get a link from a reputable site… regarding unicycles. Is the link still valid? Not really, according to an ex-Googler in an interview. The new PageRank is relevant." You want to gain links from authority sites in general…specifically, authority sites that are closely related to yours.

Correct link placement


It turns out that the position of your link on a page matters. Links tucked away in footers and sidebars, for example, aren't worth nearly as much as links smack dab in the midst of a page's main content. In conclusion? Your links should display in the main body of the webpage.

"Was this link editorially placed?" you should ask yourself no matter where your link appears on a page.

To put it another way, did someone link to you because they felt your website was fantastic? If so, you've found an editorial link. Or did you make a profile on some random website and link to it? That isn't a link to an editorial. As you might guess, Google gives editorially placed links a lot more weight.

Nofollow .vs. Dofollow


"Don't count this link as an endorsement," it says to search engines when rel="nofollow" is added to a link. When it comes to SEO, you obviously want to get as many "dofollow" links as possible.

It's time to start building links now that you know how to assess their quality.
How to get high grade links through content marketing
It's no secret that great content is the key to great backlinks.
But here's the thing: just publishing content won't get you any links. It turns out that certain forms of material are better for link building than others. Here are the four sorts of material that are most likely to create links:
Visual Assets

Visual assets are

Images
Diagrams
Infographics
Charts and other visual-oriented pieces of content

Visuals are quite simple to link to. When you publish a chart on your website, for example, you will receive a link whenever that chart is shared on another website. For text-based material, this powerful "share my image and link to me when you do" interaction simply does not work.

List Posts


A numbered list of tips, techniques, reasons, myths…or just about anything. List posts pack a ton value into digestible, bite-sized chunks.

In fact, when BuzzSumo analysed 1 million articles, they discovered that list posts generated more backlinks than other content formats… outperforming quizzes, videos and even infographics.

Original Research and Data


New data from industry studies, surveys, or original research is revealed in this content. Data and statistics are inextricably linked. Someone links to you when they cite your data. These are QUICKLY amassing links.

In-Depth Ultimate Guides


A thorough resource that explains everything there is to know about a certain subject (and then some). Ultimate guides condense a massive quantity of information into a single package. As a result, your guide becomes THE go-to resource for that subject.

The Skinny On Black Hat Link Building

Without a chapter on black hat SEO, no link-building handbook would be complete. It's relatively easy to recognise black hat link building: if the links violate Google's Webmaster Guidelines, they're undoubtedly black hat.

Is this to say you should avoid black hat link building at all costs? Only you have the power to make that decision. I personally do not suggest black hat link building because the danger does not outweigh the gain. But it's entirely up to you.

Regardless of whether you're a white hat or black hat SEO, you must be aware of Google's penalties. So let's have a quick look at them:
Google Penguin
An algorithmic penalty that penalises websites that employ spammy link-building tactics (like shady guest posting and blog comment spam). Build only white-hat links. There's evidence that minimising exact match anchor text will help you avoid Penguin (I say anchor text is part of the story…but it's also about trust). Avoiding dodgy connections is the simplest approach to prevent Penguin (regardless of anchor text).

Manual Penalty/Unnatural Links


Someone at Google has imposed a manual penalty. Unlike Penguin, Google will notify you via the Google Search Console: No one knows how sites are targeted for manual penalties outside of Google. In my opinion, an algorithm detects a website that may be abusing the system. They then send the site to a Google employee for a manual inspection. So having a spotless link profile is the greatest approach to prevent a manual penalty.

You can also recover from a manual penalty by disavowing links and submitting a reconsideration request, unlike with Penguin.
Advanced Link Building Tips
Here's a rundown of sophisticated link-building strategies I've learned throughout the years.
Get "Bonus" Links With Reverse Image Search


Do you use visual assets such as infographics and charts in your content? If that's the case, your photographs are most likely being used without credit right now.

Don't get too worked up. Indeed, you should rejoice. A nice email, similar to link reclamation, can transform many of these opportunities into links. You may also use Google reverse image search to track down people who are exploiting your photographs without linking to them:

Send Out Feeler Emails Before Going For the Close


Should you request a link in your first email of outreach to someone?

Short answer: perhaps.

A two-step strategy (Backlinko reader Mike discovered that feeler emails CRUSHED asking for a link right soon) may provide greater results:

Another advantage of this strategy is that it saves you TIME. Send quick "feeler" emails instead of personalising outreach communications that no one will ever read. Then make your next round of messages as personalised as possible.

Get Interviewed on Podcasts


Guest post links have their place, to be sure. However, they have one major flaw: they take a long time to write!

Enter the world of podcasting. You simply show up and talk about what you know, rather than planning, writing, and editing a guest post. And then – wham! – you've got a link. What's the best part? Every topic is covered by a podcast.
Conclusion
There are various ways in which you can garner valuable links to your website. Follow this definitive list and see what works best for you