TWITTER MARKETING SERVICES IN DELHI NCR
These days twitter conversations actually become the 'talk of the town.' Twitter conversations travel at lightning speed and reach to the mouth from hashtags within no time. In the times when enthusiasm for social media is reaching the sky, twitter settles as a star in the sky.
It is a suitable platform to start and stir the valuable conversations related to your brand or even sometimes just a platform to sit back and follow up on the ongoing conversations and trends to develop the right marketing strategies for you. In any case twitter can come out more useful than the expectations.
But to say the least twitter can be complicated and more harmful than useful if used carelessly. And hence it is to be handled by responsible twitter marketing professionals.
Digilink Ads is a Twitter marketing management company to your rescue. We have a team of social media experts who have experience in dealing with twitter marketing and twitter ads.
Best twitter marketing company- Digilink Ads
Our experience and dedication helped us to top the table of best twitter marketing agency within a short span of time. We believe in the satisfaction of our customers by delivering them the best.
When you choose Digilink Ads as your twitter marketing agency this is what you are bound to receive.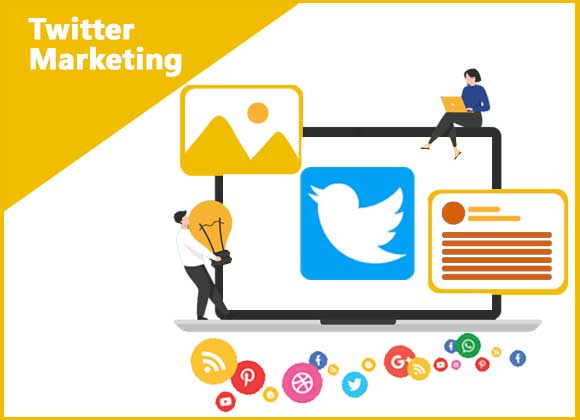 Multiple ad formats
Twitter allows the users to make great use of advertising by using twitter ads in a number of ways. When you invest your time and money in twitter ad management company you get mobile optimised content, brilliant graphics and high resolution videos compatible for both web and mobile phone.
We use a combination of types of ads and invest the right amount of money in promoted tweets.
Location based targeting
Huge part of effective online advertising is targeting the ads towards the most relevant audience. We at digilink ads make sure to optimise ads and target them according to demographics, cultures, languages,etc. When the ads reach the right audience the chances of conversions rise exponentially.
Boost to the branding process
When the posts and ads reach the right audience, it creates online visibility of the brand. It garners more no. of likes and retweets and fetches some followers too. Which in turn establishes the faith for the brand in the society and helps in getting more engagement in the future campaigns.
What services do we provide under twitter marketing?
Twitter profile creation
Creating twitter profile background and profile image
Twitter updates at regular intervals
Twitter ad services
Twitter Analytics report